Concrete Waterproofing by Crystallization™
Xypex products are designed to waterproof concrete structures, repair cracks, and protect against chemical damage.
Xypex, extend the life of concrete
APAAR Infratech is an ISO 9001:2008 certified Company offering specialized products and services to the Infrastructure and Construction industry.
In operation since 2001, APAAR Infratech covers the entire country through a network of its own branches and associate partners. 'Local experience, Quality service & International standards' is the motto followed by us to provide specialized product systems and services to our esteemed clients.

With its dedicated team of trained professionals, APAAR Infratech has been successfully executing several contracts on turn-key basis throughout India. The fact that most of the leading Infrastructure and Construction companies have approved and used our products & services is a testimony to this.

With a well established project execution network spread throughout all major cities in India, backed up with technical & after-sales support in each region, we aim to be more responsive to customer needs and respond efficiently to dynamic market demands.

APAAR Infratech values its relationship with its customers. It strives to be at the forefront of the industry requirements with the vision to forecast future market demands with excellence. As a team we deliver products and services that meet the quality, performance and price aspirations of our industry.

We are committed to working closely with infrastructure developers, consultants, designers, architects, specifiers and contractors to help improve the standard and performance of Concrete solutions in India. Today, APAAR Infratech is proud to have credentials and experience of successfully executing projects of over 5 Million Sq. Mt. area in India including Dams, Tunnels, Metros & Transport Infrastructure, Power & Irrigation Projects, Water & Wastewater structures, SEZs, Commercial & Residential complexes and Hotels. And much more...!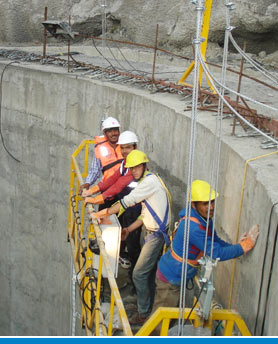 Message from the Xypex CEO
For over 50 years, Xypex has been a global leader in concrete waterproofing and protection technology. Our crystalline products have been utilized in high-profile projects worldwide, including iconic landmarks and modern facilities, with a reputation for reliability, quality, and trust.

Xypex is recognized as a committed partner in the construction industry, with an unwavering focus on innovation, quality, and service. Our dedicated team of experts constantly explores new pathways for progress to push the boundaries of what is achievable in concrete protection, providing sustainable and effective solutions.

We continue to collaborate with partners and clients in the industry, delivering world-class solutions that meet their specific requirements for chemical protection, durability, and extended service life. With a focus on trust and a commitment to quality, we remain at the forefront of our industry, providing the highest level of service and expertise to meet the needs of our clients.
Chris Miller
CEO
Quality Policy
Quality is a key driver at APAAR Infratech and at the heart of our working. The use of modern equipment, teams of highly skilled and experienced workmen, superior materials, quality tools and constant supervision throughout ensures superior and consistent quality in all our projects. The glowing tributes of our clients, their repeat business and the expanding reach of our operations are a testament to our quality and our commitment to customer satisfaction. Certification from ISO 9001:2008 is another stepping stone towards reassuring our business partners and clients of our strict compliance to set of norms laid down by International Standards Organization.
Partnership
Our Affiliations with reputed companies worldwide has enabled us to achieve considerable heights. APAAR Infratech has entered into association with global leaders in Concrete solutions for marketing and promoting their gamut of products and services in India.