Patch'n Plug
Xypex Patch'n Plug is a specially designed, fast-setting, non-shrink, high-bond-strength, hydraulic cement compound for concrete patching and repair. Patch'n Plug stops flowing water in seconds and is used to seal cracks, tie holes, and other defects in concrete. The high performance characteristics of Patch'n Plug are enhanced by Xypex's unique Crystalline Waterproofing Technology.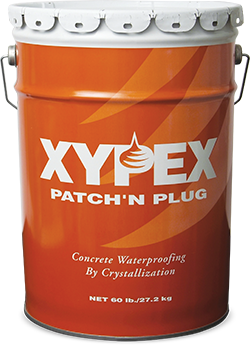 Advantages
Single component (simply add water)
Fast setting: two to three minutes at 70ºF (21ºC)
Excellent structural strength
As durable as the masonry and concrete to which it is applied
Non-metallic (won't rust or deteriorate)
Non-toxic
Recommend for
Stopping an active flow of water through cracks
Repair of concrete substrates before the application of Xypex coating materials
Packaging
Available in 20 lb. (9.1 kg) pails and 60 lb. (27.2 kg) pails.
Coverage
One 60 lb. (27.2 kg) pail of Xypex Patch'n Plug will produce 0.54 cubic feet (0.0154 cu. metres) of mortar.
Storage
Xypex products must be stored dry at a minimum temperature of 45ºF (7ºC). Shelf life is one year when stored under proper conditions.